DryLINK Asset Manager
At-A-Glance
HOW IT WORKS…
ASSET MANAGER OVERVIEW
Advanced Equipment View
FEATURES
Last read time & last user
New battery reset
Move to maintenance
Search By – Equipment name, serial number, location, address/coordinates, last job name, model, type, size, manufacturer
Selectable Filters – General Type: air mover, dehumidifier, air scrubber and other
DryTAG UUID – Filter by untagged and tagged equipment, our statuses include available, inactive, on job and missing
TAGGED ASSETS: Map View
FEATURES
At a glance view of vehicles, warehouses, jobs, and their associated equipment
Vehicle locations updated every five minutes
Quickly toggle from location to location with card view
Filter on locations and equipment statuses
TAGGED ASSETS: Table View
FEATURES
Equipment summarized by location and Xactimate category
Add custom columns
Manage your individual column view
Export to CSV
Easily toggle to Map or Table View
Filter on locations and equipment statuses
ASSET MANAGER BENEFITS
REDUCE LOST EQUIPMENT and Rental Costs
Equipment is tracked in your warehouses, on your vehicles, and on your jobs with no human interaction. Know what is available and where it is located at all times.
Reduce Inventory Management
No need to take inventory or cycle counts of warehouses, trucks, or trailers. Replace Bin Systems and no need to check trailers or vehicles to see if they are stocked properly.
Major Vehicle or Trailer Theft
Accurately and immediately know what exact equipment was involved in order to start the insurance claim and accurately claim a business loss.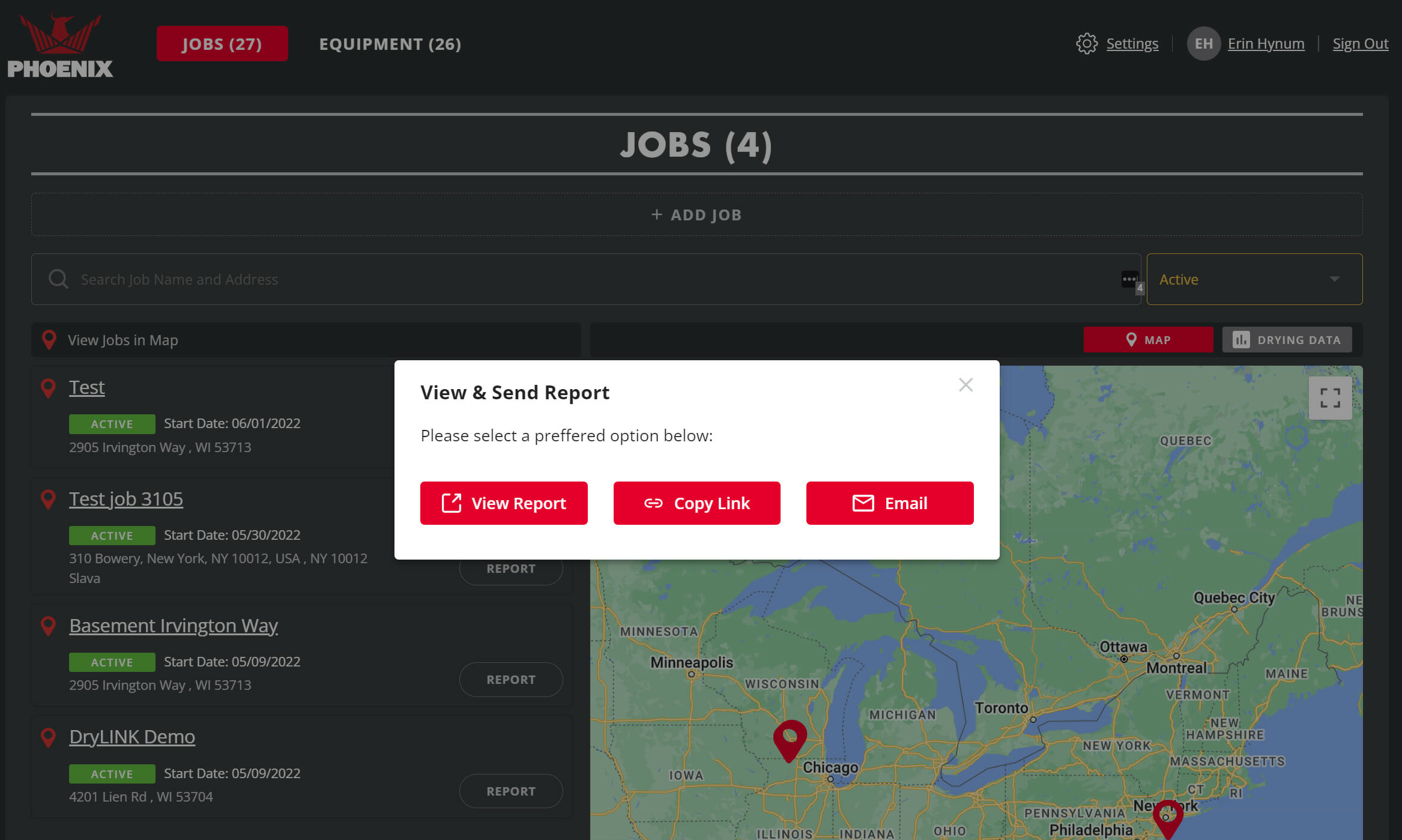 Reduce Unpaid Site Visits due to Equipment Left Behind
Eliminate the feeling of thinking you forgot something; instead, receive a notification that you did forget something.
Vehicle Locations
Know at 5-minute intervals where your gateway enabled vehicles are located (i.e. were my techs actually where they claim they were?).
By Proximity, Deploy Assets Effectively, Respond Quickly During an Event
See vehicles on a map with a quick view of available equipment. Use table view to see total assets grouped by Xactimate categories.
Receive Jobsite Status Updates
Keep track of run-time and location. If you use a DryPHONE, which is optional, you can receive notifications every 15 minutes if equipment is turned off or is no longer reporting in.
See Where Labeled Assets Are Located
Assign assets to a branch location, a vehicle, or an employee or any label, and then filter by assignment. (i.e. show me all equipment which belongs in Truck 1).
Continual Monitoring for Lost Equipment
If equipment is lost or stolen, we will continually monitor all DryLINK assets to see if any lost equipment sends updated GPS coordinates from ANY DryLINK app and alert you if found.
Unnamed Icon
Can display a list of equipment left behind, missing or not added to the job by job name, address, or GPS coordinates.
Reduce Asset Overbuy due to Better Asset Utilization
Don't buy more than you need during an event just because you do not know where your equipment is located.
Differentiate Rented, ComMingled, Owned
Quickly differentiate (identify) and locate equipment Rented, owned by different companies, assigned to different locations no matter how many units are mixed.
Differences
The differences between DryLINK Asset Manager and other Bluetooth systems:
DryTAG has an accelerometer which provides runtime information.
Phoenix is building Asset Tracking into its equipment so that DryTAGs will not be needed in the future.
Bluetooth technology allows tags to be used in both DryLINK for jobs and DryLINK Asset Manager.
Want to learn more about our Revolutionary Asset Tracking?
DryLINK Asset Manager Demo Request